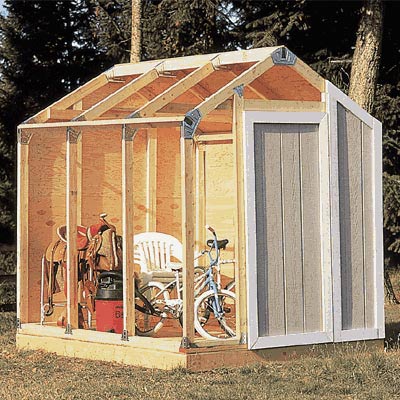 Current Price:
32.53


Current Bids:
5







Universal Storage Shed Framing Kit Storage Wood Outdoor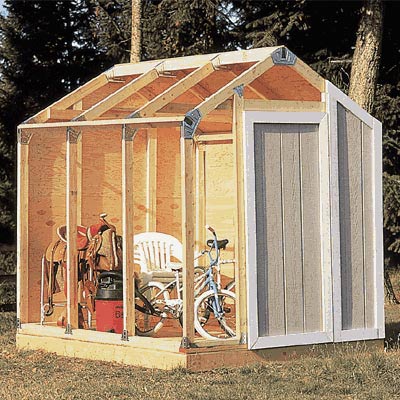 Click an Image to Enlarge
Universal Storage Shed Framing Kit Storage Wood Outdoor
NO ANGLES TO CUT! This Shed Kit's unique galvanized steel angles and base plates make erecting a building fast and easy! Perfect for constructing a storage shed, tool shed, mini-barn or boat house. Kit includes 24 steel angles, 12 base plates, material lists and plans for a 7 ft.W x 8 ft.L. Lumber and roofing materials not included. U.S.A.
Kit for 7' W x 8' L Shed
24 Steel Angles
12 Base Plates
Materials List and Plans included
Lumber and roofing materials not included
Please Note: This framing kit is LIKE NEW. Kit hasn't been used, but is not in its factory packaging. Contains all necessary pieces and manual. Please view all the pictures before placing a bid to see the exact contents and condition.
This item is LIKE NEW. Our starting bid is a fraction of the normal retail price. So hurry and bid, you don't want to miss out on this great deal!!!


Thanks for looking!
Check out our other auctions for more great deals!

Welcome to SACS Distributors eBay store!
To make your purchase as simple
and easy as possible, please refer to the store policies listed
below.
After winning an item in auction or completing a Buy It Now
purchase, you have two check-out options:

Check-Out Now! Click the Pay Now button at the
top of this listing to immediately proceed with our checkout and payment
process. Please note that the Pay Now button is ONLY available
after winning an auction or completing a Buy It Now purchase.
Check-Out Later If you do not choose to Check-Out now, you will
be notified by eBay via e-mail that you are the winning bidder. There
is no need to contact us to arrange payment. We will automatically send
you an e-mail within three hours of an auction closing. Our message will
contain a link to our simple and secure checkout system, where you will
be able to quickly and conveniently pay for your purchase.
You may also continue purchasing additional items from our auctions
or eBay store. You have 7 business days
from the end of the first purchase to add additional items to your
order. Make sure all of your auctions have ended prior to checking
out. All of your purchases will be consolidated into one checkout! Save money with combined shipping!



Payment
Winning bidders may pay via PayPal. Payment must be completed within 10 days of an auction closing. We accept the following forms of payment.
PayPal
Please email us for alternative payment options
All winning bidders must use our secure checkout system regardless of payment form. When mailing a payment, please include the eBay auction listing number and your contact information.


Sales Tax
For shipments to Kansas addresses, we are required by State law to collect 8.3% Sales Tax. Sales Tax will also apply to any items that are picked-up from our warehouse.


Shipping
SACS Distributors offers some of the fastest shipping on eBay! All orders typically ship within 1-2 business days of payment. We offer shipping to all 48 contiguous United States. We do not ship internationally, including Canada. Please email us for a shipping quote for Alaska or Hawaii. This item will ship via FedEx Ground or United States Postal Service. All FedEx shipments are fully insured at no extra cost to the winning bidder, insurance is available for USPS packages.


Combined Shipping
If you win multiple auctions and want to combine shipping, please email us with all your auction numbers for a combined rate. Large or bulky items may not be able to be combined on multiple item orders. Please do not complete the checkout process until all item auctions have ended.
Local Pick-Up
Pick-ups are allowed at our warehouse on Wednesdays from 9 a.m. - 12 p.m. and 1 p.m. - 4 p.m. You must notify us prior to coming to pick up your items. A flat handling fee of $5.00 is charged for each pick-up appointment.


Customer Service
SACS Distributors strives to provide each of our valued customers with the best service possible. We appreciate all positive feedback and five star reviews! If you have any questions or concerns, please do not hesitate to contact us. We answer emails on every business day, Monday through Friday, 9am to 5pm. Our email address is sales@sacsdistributors.com.

We list each item with as much information as possible. We try to describe our auction items as accurately and honestly as possible. Please carefully inspect the auction details and included photos before placing a bid. By bidding on this item, the bidder has agreed to all terms and conditions of the item. We guarantee that the item will arrive in the condition as described in the listing.
Items sold "as-is" have no warranty or return privileges. There are no exceptions.
Items listed in a condition other than "as-is" are guaranteed to be in working condition. No additional warranties are offered or implied by SACS Distributors. If you receive an item that does not work or is damaged, our return policy is as follows:
The buyer must notify us via email within 3 days of receipt to report the damage or non-working item.
The item must be returned to our warehouse properly packaged. The buyer is responsible for all return shipping charges. The returned item must include all the parts, accessories, and the original packing material with the return shipment. The item must be in the same condition as it was shipped to be considered for a refund.
SACS Distributors will determine that the item is not as advertised and that all part/accessories have been returned. At our sole discretion, we will issue a refund or exchange the unit for an identical item.
Thank you for visiting SACSSALES auctions!

This auction is valid until 2010-09-25T03:01:46.000Z

You might also be interested in these current auctions:

Tags:
storage shed
Related posts