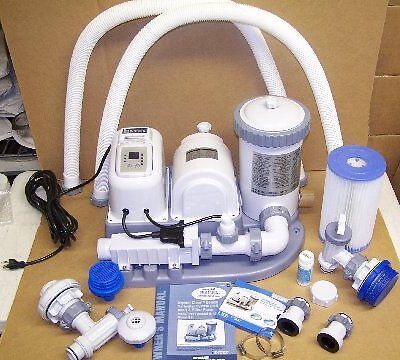 Current Price:
197.99


Current Bids:
1
Up For Bid Is A Brand New Factory Sealed with 2 year Warranty Intex Chlorine Generator Combo Salt Water Deluxe System Model #56611 also known as the 16611.
In-Stock, will ship immediately
Simply install as directed and the intex Saltwater System will do the rest! The pool's water is automatically converted to an effective algaecide. There's no need to buy, handle and store packaged chlorine. There is nothing like the comfort of swimming in a pool treated with an intex saltwater system.
The Intex Saltwater System works as easy as 1-2-3!1. Connect to your pool.2. Add inexpensive all natural salt to pool.3. Turn on the Saltwater System to eliminate bacteria, algae and other contaminates without dangerous packaged chemicals.Compatible with the following pools: Easy Set Pools: 15' and 18' Frame Pools: 15', 16', 18' and 24' Oval Frame Pools: 20', 24' and 28' x 12' Rectangular Frame Pools: 18' x 9', 24' x 12' and 32' x 16' (Requires a filter pump with a flow rate between 500- 4,000 Gallons per hour)(Not suitable for in-ground pools)Saltwater pool's salt level is undetectable by swimmers! So it feels like clear, clean, fresh water.No more red, burning eyes, dry skin or faded swimsuits.Built-in timer automatically turns the unit off after daily operating cycle.
Chlorine Generator Salt Water System features:
110-120 volt
Heavy-duty Chlorine Generator and 2,000 gal. per hour filter pump set hooks into most above ground filter pump systems
More user friendly control panel
Diagnostic lights show operational status
diagnostic lights alert user in case of problem
Add the specific amount of salt directly into the pool
Includes hose attachments and electrical cord
Self-cleaning titanium-coated electrolytic cell for continued performance
Touch-sensitive control panel alllows user to pre-program operating hours
Flow sensor system alerts operator to adverse operating conditions
Keypad locking system ensures settings are not changed accidentally
Easy to use test strips (50 count) included to check performance
24 hr auto-clock
Easy set-up video included

Warranty:
We guarantee that our products are Brand New and carry a full 2 yrs manufacturer's warranty! If you receive a defective product please notify Intex immediately. Do not return defective items to us. This will only delay replacement. Intex customer service handles warranty claims direct . Please call Intex customer service at 1-888-554-6839. A 2 year manufacturer's warranty applies on all Saltwater systems (unless otherwise stated). We will assist you as needed. The manufacturer's warranty does not cover misuse or abuse of its products. The warranty also does not cover lost or damaged shipments. Inspect your shipment thoroughly for damage. Notify us immediately if the contents are damaged. Please use caution when opening your package. Using a knife to open the packaging could damage the contents. You must also allow inflatable products to assume room temperature prior to handling or inflation. Failure to do so could result in leaks. The manufacturers warranty will not cover this type of claim.
Shipping
FREE shipping in the lower 48 states. No Po Boxes, Apos or Fpos. We do not ship to Hawaii, Alaska, Puerto Rico, Canada or international. We ship Monday-Friday within 24 hours of a completed payment (please make sure you do not have a po box on the payment as this will delay your shipment) Estimated shipping time is 1-3 business days for the east coast and 3-6 days business for the west coast. If you are having this item shipped to an alternate address, that address must be supplied with payment. We can not change an address that is sent in an email only with payment. Please feel free to contact us for any reason at (814)207-1165.
Feedback
We take feedback seriously. A positive rating is left for the buyer as soon as a payment is received and we would appreciate a positive rating with all 5 stars after and item is received. Please remember the following when leaving feedback, it is to rate us as a seller and not the item itself. On the ebay spectrum a 4 star rating which sounds good.. Accurate on description, satisfied on communication, quickly on shipping time, and reasonable on shipping price. Really is not that good because as a seller if we do not keep at least a 4.6 rating we will lose our Powerseller status. If for any reason you feel you can not give us an all 5 star rating which would be.. Very accurate on description, very satisfied with communication, very quickly with shipping, and very reasonable for shipping price PLEASE contact us and we will do our very best to make things right for you as our buyer.
Return Policy
Item must be brand new still sealed not opened. There is a 10% restocking fee and buyers covers all shipping costs. IMPORTANT INFO PLEASE READ CAREFULLY. We offer free shipping, but we still pay for it to be delivered to you. If you chose to return your item, you will cover that fee. For example if FedEx charges us $20.00 to ship you the item, that amount will be deducted along with the 10% restocking fee from your refund. Please call or email us for an RMA number before you send the item back, this will allow for a faster refund. Also please call us if you have any questions or concerns about our return policy before you bid. Thank you 814-207-1165

This auction is valid until 2010-08-01T21:20:54.000Z

You might also be interested in these current auctions:

Tags:
above ground pool
Related posts